Christmas trees in Bury St Edmunds have been decorated with children's self-portraits drawn onto eco-friendly wood slices. The miniature masterpieces were placed in high boughs by local tree surgery firm bts Group Ltd, on behalf of Bury Developments, ahead of the 17 November Christmas Lights Event.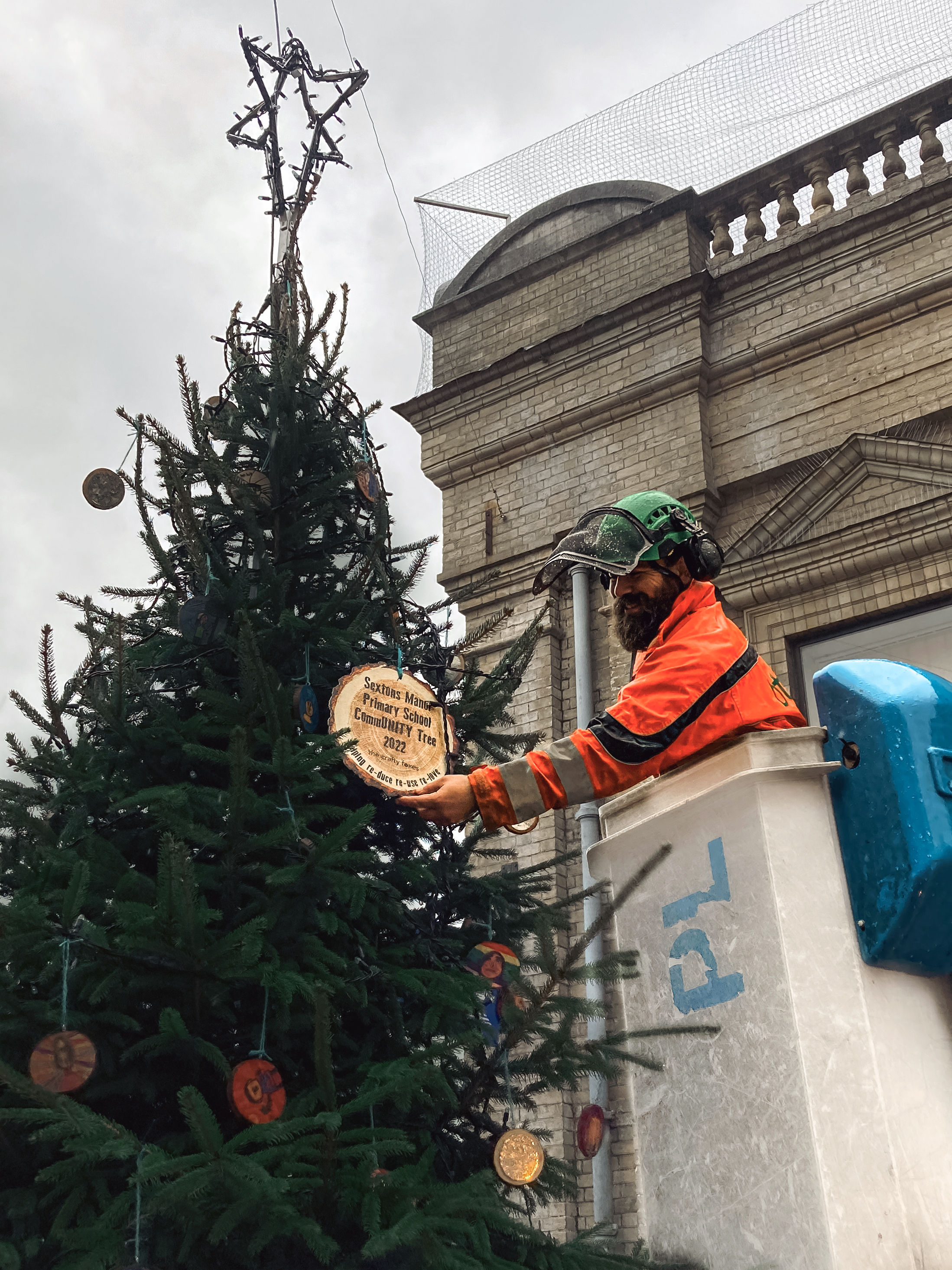 bts Group arborists Clive Collins and Jason Webb withstood the November rain, using a mobile elevating work platform (MEWP) to safely reach the higher branches of four trees: two in the Abbey Gardens, one in the Traverse, and the main tree on Angel Hill.
bts was brought in by local building contractors Bury Developments, which often supports community projects and charity work. Matt Fordham, Buyer and Quantity Surveyor at Bury Developments, said it was great to be involved in these kind of events (and seemed to really mean it, despite the fast-increasing rainfall!).
"Each decoration has a mirror on the back, which the child
ren used to draw their self-portraits," pointed out Michelle Freeman, founder of The Crafty Foxes, which worked with local primary schools to create the hand-crafted decorations. The mirrors will enhance the lights, Michelle said, as well as symbolising our reflection on the year.
CommUNITY trees
The Crafty Foxes is a community-based craft company which has arranged meaningful Christmas tree decorations in Bury St Edmunds for three years running.
In 2020, children wrote positive gestures from the first COVID-19 lockdown onto wooden stars; in 2021, baubles were decorated with the names and birthdates of children born during the 2021 lockdown.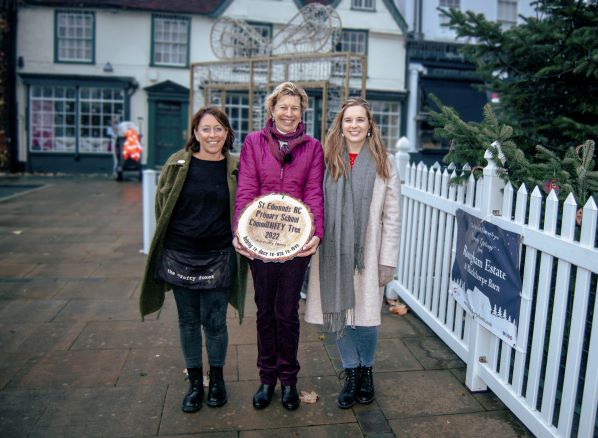 Michelle Freeman, Melanie Lesser, Olivia Russell
The ongoing project, this year dubbed CommUNITY Trees, is supported by local groups including Bury St Edmunds and Beyond and Our Bury St Edmunds.
Christmas celebrations
Despite bad weather forcing event organisers to cancel stage entertainment, this year's Christmas lights celebrations were unique, as Bury St Edmunds is celebrating the one thousandth anniversary of its Abbey. As a grand finale to the year-long celebrations, the Norman Tower was lit up in a 'Light Spectacular' – a half-hour show in which scenes from the Abbey's history were projected onto the 12th Century gatehouse, accompanied by sound-scaping, music, and narration.
Melanie Lesser, of Bury St Edmunds and Beyond, pointed out some of the other Abbey 1000 projects in the town. Among them is the Sculpture Exhibition currently viewable in the Abbey, which features the widely-acclaimed 7'6" steel monk designed by Nigel Kaines and built by Kevin Baldwin. And look out for the smaller sculpted residents in the Dovecote!
Locals and visitors in Bury St Edmunds can expect further festive cheer next weekend (24-27 November 2022). Several venues will host Christmas stalls and other attractions – a lower-key replacement for the traditional Christmas Fayre, which attracted over 100,00 visitors to the town.