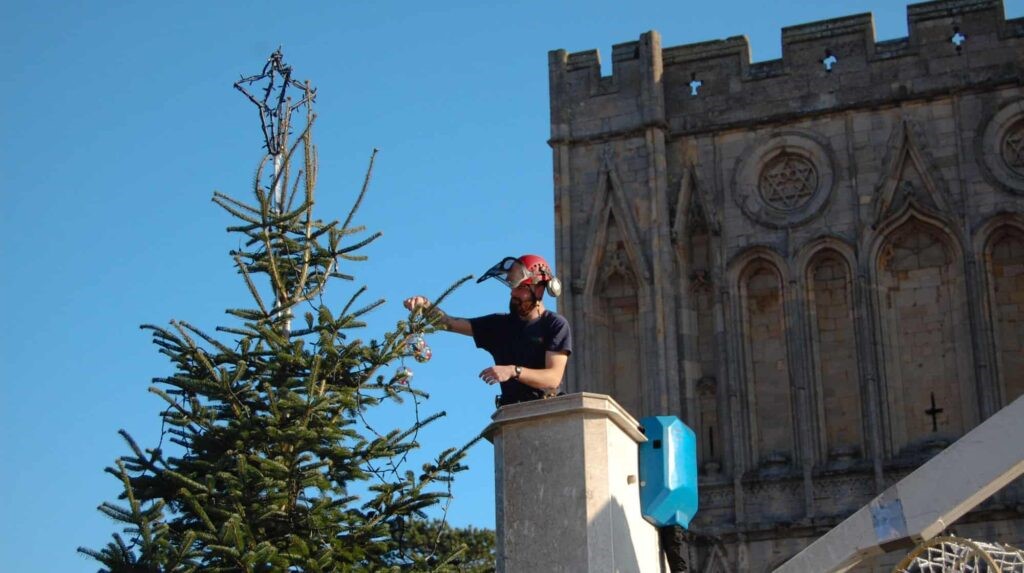 bts Group joined other local organisations to help decorate the Christmas trees of Bury St Edmunds with special 'Trees of Hope' baubles.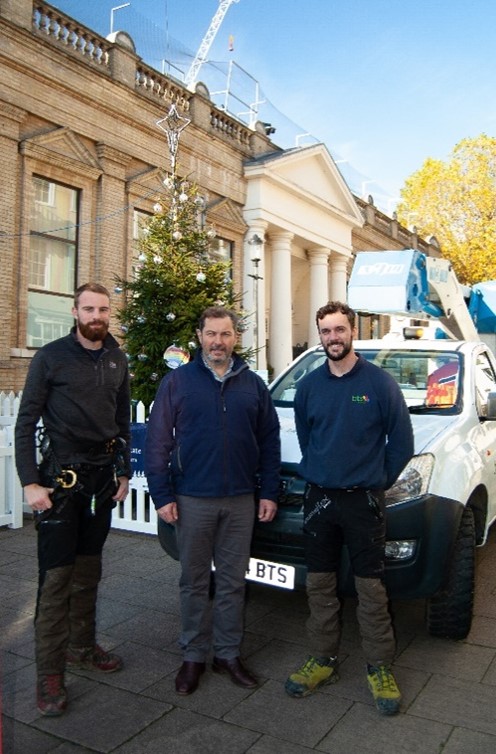 Left to right: Will Todd, Austin Cornish, Chris Old

Building contractors Bury Developments contracted bts to help out ahead of Bury St Edmunds' Christmas Lights Event (which went ahead 18 November 2021).
bts arborists Will Todd and Chris Old spent a sunny morning working with project organisers Melanie Lesser (chairwoman, Bury St Edmunds and Beyond) and Michelle Freeman (founder of art group The Crafty Foxes). Volunteers from the Bury Abbey Rotary Club helped hang the colourful decorations on Angel Hill and The Traverse. Will used a MEWP to reach the higher branches, carefully arranging baubles according to the artistic direction shouted from below!
Also decking the halls was Austin Cornish, founder of Bury Developments. Since starting his business around 20 years ago, Austin has become involved in many community projects, including fundraising for the local hospice. "It's good to give a bit back," he said.
Wishes of hope
The baubles are decorated with the names and birthdates of children born during the 2021 lockdown. Inside are the parents' wishes for their child's future.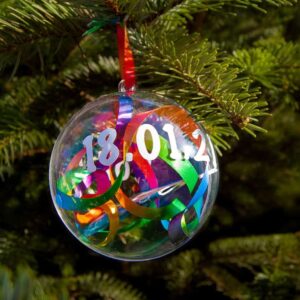 Michelle Freeman made all 425+ decorations, which include sentiments such as, "Born in the lockdown, may you ever be free", and "May you and your sister be best of friends".
In January, the baubles will go to Bury St Edmunds Library, where parents can collect them – Michelle said most intended to save them for their children to open when they got older.
The Trees of Hope project
Trees of Hope is in its second year. Organised by local groups, including Bury St Edmunds and Beyond, The Crafty Foxes, and Our Bury St Edmunds, the scheme focuses on finding and spreading messages of inspiration and positivity – even through trying times.
Last year, Bury Developments brought in bts to hang the 'Stars of 2020', adorned with gestures of goodwill recalled by primary school children.
What's next?
Bury St Edmunds and Beyond, Bury Developments, and Crafty Foxes, and many other local organisations will help Bury St Edmunds celebrate a landmark anniversary next year.
The Abbey 1000 Group plans a year of celebrations in 2022, as the town marks 1,000 years since the founding of the Abbey (well, technically 1,001 years – things got delayed due to COVID-19). Events will include museum exhibitions, special tours, and unique sculptures.
A lot of exciting things are happening behind the scenes and, although the organisers are good at keeping secrets, we've been told to keep an eye out for upcoming announcements…