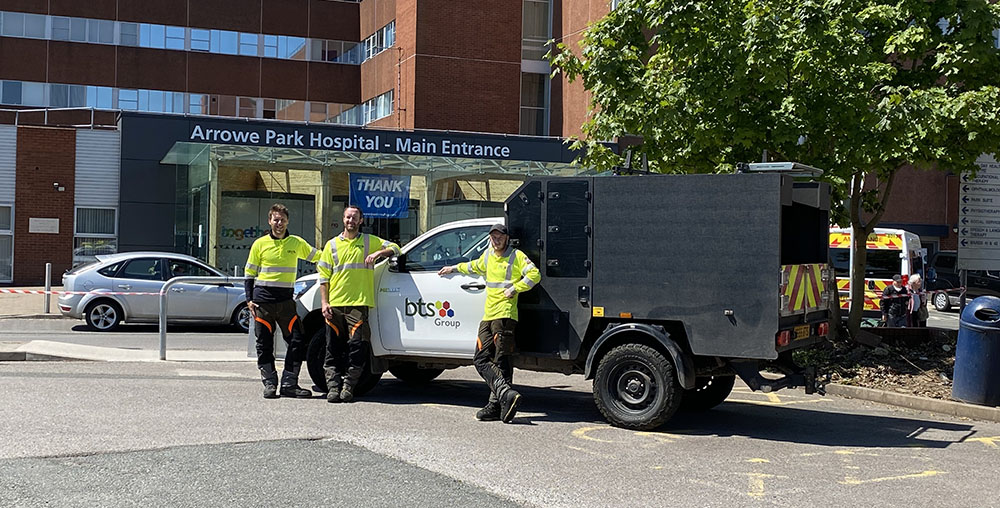 Arborists from bts Group Ltd spent bank holiday Monday helping a hospital.
Distribution network operator (DNO) SP Energy Networks asked bts to collaborate on a pro bono job for Arrowe Park, an NHS hospital in the Wirral.
Why Arrowe Park?
The hospital fought the Covid-19 pandemic from the start and paid a toll: over 200 patients with the disease have died in Wirral University Teaching Hospital (which includes Arrowe Park). Arrowe Park also lost a nurse, Julie Penfold, to the disease.
SPEN wanted to do something to thank the NHS staff, so arranged to maintain and beautify the outdoor areas, including those where staff take breaks. It asked tree surgery firm bts Group Ltd to help.
Three bts cutters – Jacque Safhill, Adam Deeley and Mike Jones – worked in collaboration with the SPEN team starting on bank holiday Monday.
What started as a simple job grew in scope as the teams "got a bit creative", said Tom Walsh, SPEN general manager for the Wirral district. The initial hedge trimming and border neatening turned into a larger transformation.
"[The bts] guys on site were fantastic and have really worked well in collaboration with my team," Tom continued.
"We were approached many times by the NHS staff asking what we were doing, and when we told them we were creating a better environment for them to enjoy lunch or take a break the response was excellent – they were over the moon with the gesture from both SPEN and our partners."
bts health, safety and compliance advisor Piotr Zamachowski also gave credit to the cutters. He also wanted to thank the NHS staff for treating the arborists so well – and supplying fantastic refreshments.
bts and SP Energy Networks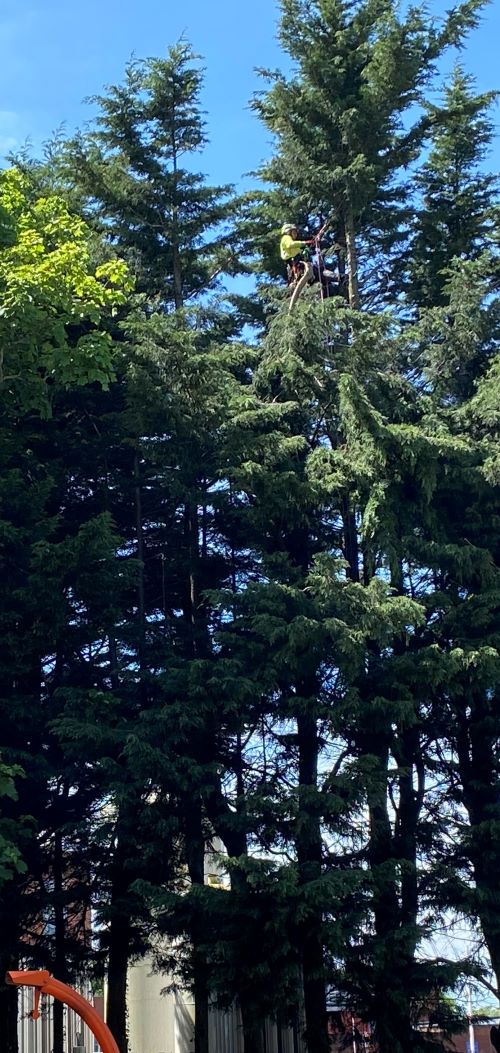 This job, though special, is one of many collaborative efforts to come. bts recently won a bid to work with SPEN in The Wirral, providing tree cutting and vegetation management along powerlines.
Hal McCallum, bts managing director, said of the contract: "This has been a long time coming! We are very excited and know we can fulfil all requirements as tendered."
Work started in late May, with four teams of cutters out in gale-force winds.
Essential work through Covid-19 crisis
bts has continued safety-critical jobs throughout the pandemic, helping to keep the public safe and enabling DNOs to keep electricity flowing to customers.
As lockdown measures are loosened, the firm is bringing staff back onto maintenance work – with new safety measures firmly in place.
SPEN also continued critical maintenance and repair work, implementing special measures to protect essential national infrastructure. Electric vehicles provided by the DNO's Covid-19 fund enabled volunteers in the Scottish Borders to deliver essential groceries to vulnerable people in remote areas and helped Support in Mind Scotland purchase essential equipment for its support workers.
On 29 May, SPEN signed a C-19 Business Pledge, which reaffirmed its commitment to helping customers, colleagues and communities through the crisis and into the recovery phase.