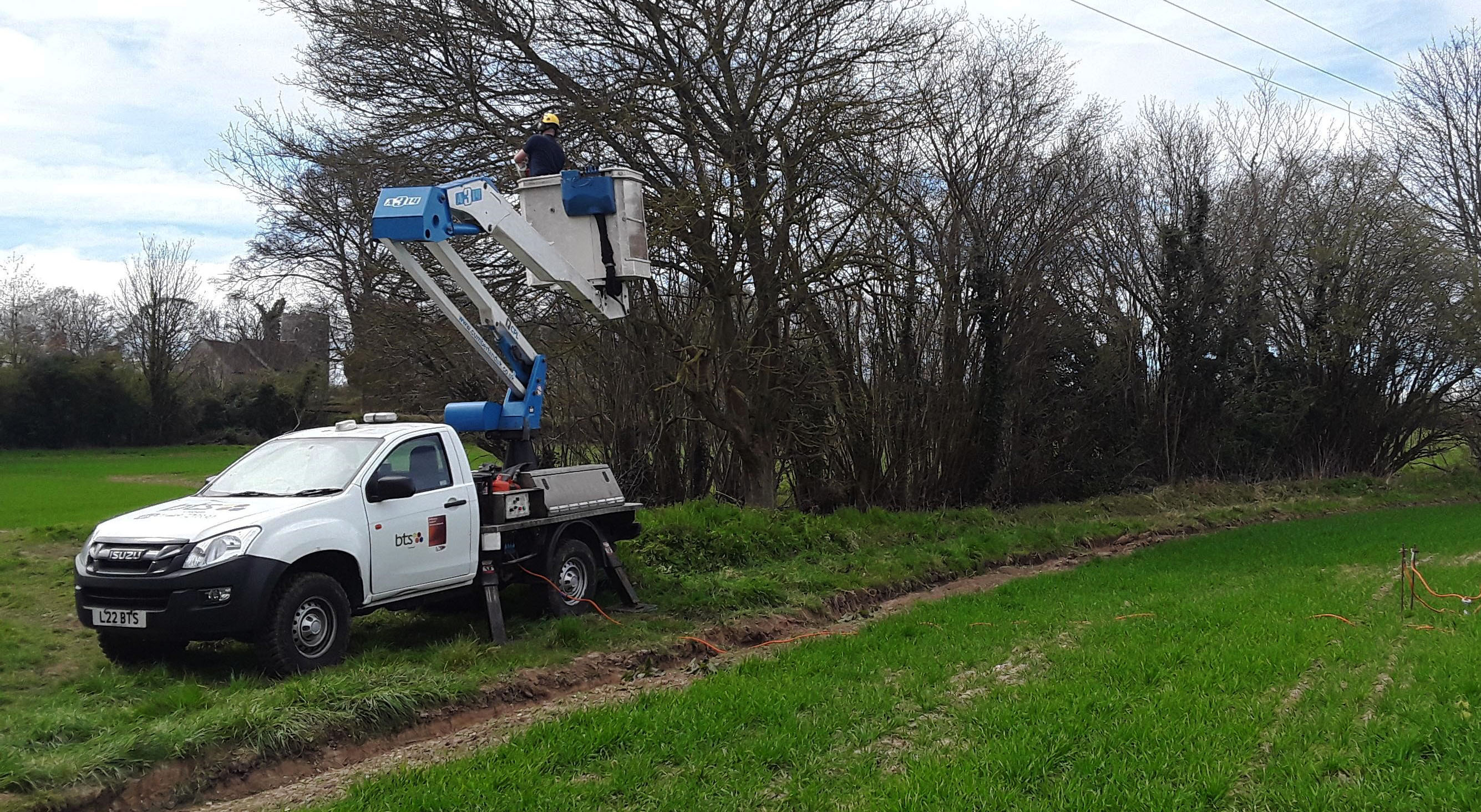 Arborists from bts Group Ltd are still working to support the UK's power networks.
bts arborists, who provide vegetation management for Distribution Network Operators (DNOs), are classed as key workers in the ongoing Covid-19 crisis. bts helps maintain vital infrastructure in the UK, working to support DNOs like UK Power Networks and Western Power Distribution.
DNOs have suspended all non-safety critical work, a move designed to keep workers and the public safe while maintaining power supply across Britain.
Safety critical work
bts is working at safety critical locations. That means areas that have high-risk trees in high-risk locations.
These include situations that could easily result in power outages if left unchecked. In addition, bts is continuing to make dangerous trees safe, including those that can be climbed by children, and is responding to urgent incidents and faults.
East Anglia
UK Power Networks' power supplies remain 99.9 percent reliable – a testament to the hard work of their engineers and supporting contractors.
bts has five cutting teams and four surveyors still working in East Anglia. As well as adhering to the usual stringent health and safety requirements, all staff are:
Fully briefed on the importance of social distancing
Disinfecting equipment and controls
Planning each task effectively and avoiding cross contamination within cutting teams
No work is being done without the landowner confirming their approval.
Sarah Marklove, senior contract manager at bts (Needham Market), praised the "outstanding efforts" of her staff, including the now much-smaller support team.
"We've managed to get work out to the surveyors and cutters, and ensured continuity over the coming weeks," said Sarah. "Already we've attended three faults, cut ten safety-critical spans, and surveyed and quoted 20 very high-risk locations."
West Midlands
The Midlands branch is working remotely, thanks to the data capture system set up by bts's IT team.
"We can issue work and validate jobs totally digitally," said Jon Pearson, senior contract manager at bts (Telford).
Western Power Distribution (WPD) is also only performing safety-critical work – and has issued detailed guidelines on safe practices, which have been highlighted to bts staff and sub-contractors.
bts is physically assessing each site for network safety, network integrity and public safety before deciding whether the job is safety critical. Arborists are travelling one person per vehicle wherever possible and have been briefed on social distancing while working.
A focus on safety has helped equip bts with the skills to navigate a unique crisis. "Our safety record is exemplary –¬ quite literally second to none within our peer group," Jon said. "We're audited by WPD, which has very high standards."
Indeed, WPD is rising to the new challenge in several ways – on 3 April, the DNO launched its 'In This Together - Community Matters Fund'. The £500k fund will directly support community organisations that are helping vulnerable people during the Covid-19 pandemic.
A quality service in testing times
Andrew Watts, bts director of Infrastructure said: "Our skilled and resilient teams are to be congratulated on their ability to maintain a quality service in such testing times. They're also to be admired for the care they show for each other and the public.
"It's pleasing that our continuity plan is performing well, and our IT strategy has made sure staff can work at home and in the field without disruption. We're continuing to work in partnership with our clients."