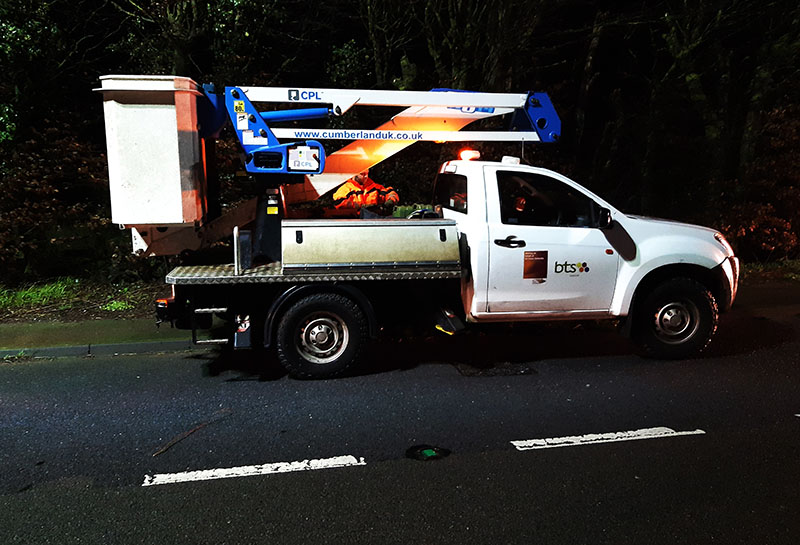 Quick look
| | |
| --- | --- |
| Summary: | bts Group Ltd and UK Power Networks secured power lines on the A12 after a road accident caused major damage near Colchester. |
| Date: | 9-10 Jan 2020 |
| Client: | UK Power Networks |
| Crew: | 16 tree cutters |
| Equipment: | Floodlights, headlamps, spider MEWP |
Details
A London-bound driver hit an electricity pole taking a service line down across both carriageways.
UK Power Networks acted fast to secure the site and restore the power supply, but the damage was extensive. Full repairs required a planned power outage and road closure, which was arranged for the overnight of 9-10 January 2020.
Incidents like this are, fortunately, rare – so the distribution network operator (DNO) called utility arboriculture specialists bts Group Ltd, giving us the opportunity to survey and permission tree work they had identified on the affected network adjacent the A12.
"It makes sense that if you're going to have [a road closure on the A12] you synchronise works," said Sarah Marklove, senior contract manager at bts. Planned night-time works are few and far between, so bts took the opportunity to clear vegetation from the network.
Day to night
The job spanned approximately 800 metres of vegetation, including large pines that needed special attention.
"There was a lot of prep work, the pine trees were pressing against the three phases of the low voltage electricity network, so time and care were needed," Sarah said. "Our tree cutting team did as much prep work as we could do safely, without a road closure or an outage." Tree surgeons started work on the pines during the day, dealing with branches that posed no risk to the road.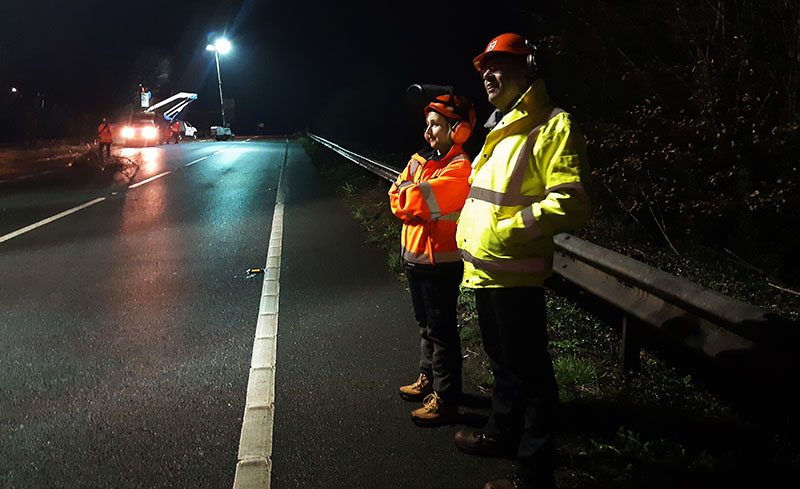 Sarah Marklove (senior contract manager) and Andrew Watts (infrastructure director)
The power went off at around 9 pm, and the road closed soon after. bts sent 16 tree cutters, who worked the nocturnal project in pairs.
One obvious challenge of a night-time job is lighting. bts brought in four floodlights to illuminate the site and equipped each cutter with a headlamp, making the midnight mission as safe as possible.
Field-side and roadside workers made progress in opposite directions, meeting in the middle. They cut the hedge to 3-4 metres' clearance down the whole stretch – an excellent result. The team also removed the pines, using a spider Mobile Elevating Work Platform (MEWP) to get the awkward job completed safely.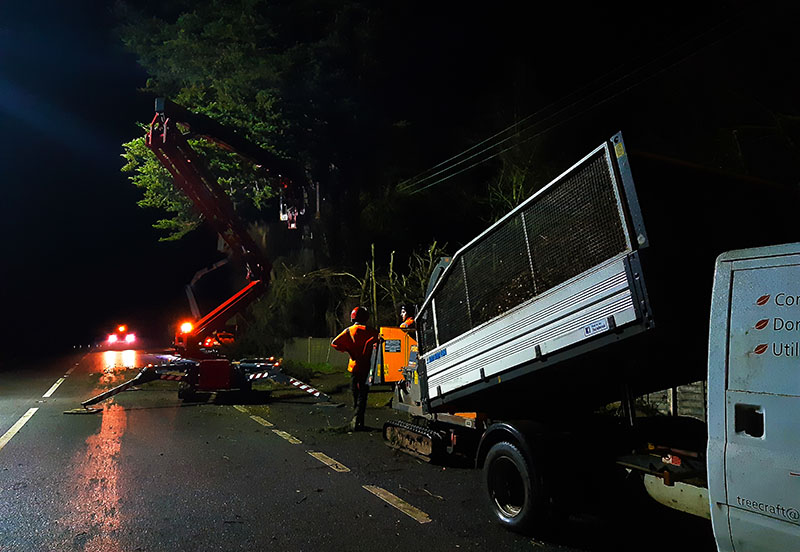 Careful clean-up
Working at roadside means an even more meticulous clean-up than usual – anything left on the road is a serious hazard. The crew swept as they went along and, when the cutting was done, "It was all hands on deck. Everyone had a blower."
The job was finished by 3am, as scheduled, leaving the A12 spotless and safe. "Ross Leeks [Area Manager] and his teams did a cracking job," Sarah said.