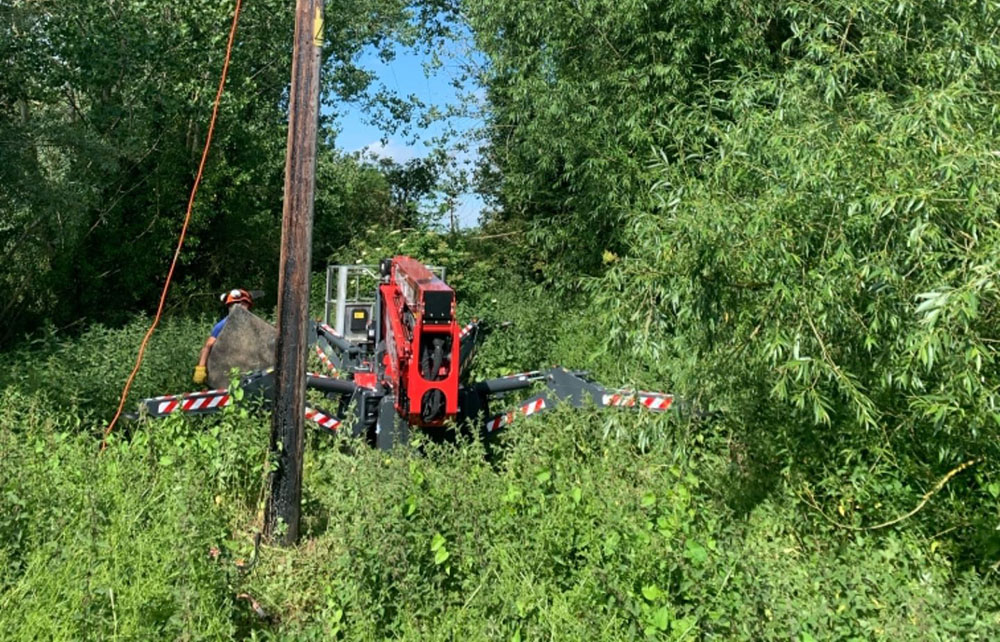 Quick look
Date:
15-16 June 2020
Location:

Mill Lane, Barrington

Water Meadows

Branch:
Cambridgeshire (headed by Paul Read)
Client:
UK Power Networks
Crew:
Planning team: Paul Read, Fred Rogers (UKPN), Jon Munden

Surveyor: Rob Taylor

Cutting teams:

Tim Rogers (UKPN)

Rob Cox

Matt Warden (bts)

AMC (subcontractor)

Beach Electrical (subcontractor)

K&B (subcontractor)

Premier Trees (subcontractor)

On the day – 18 people there

+ Rob Taylor

Equipment:
4 x tracked MEWPs (turner hire), generators, linesmen team
Summary:

bts and UK Power Networks (a distribution network operator/DNO) teamed up to tackle a troublesome patch of land, removing potentially dangerous branches from the vicinity of powerlines.

Eight spans of power lines in the water meadows behind Barrington, Cambridgeshire, needed branches cut away and vegetation maintained for easier access.

It takes a long time to organise an outage and collect the correct consents from multiple landowners.

Each time bts and UK Power Networks had tried to tame the stretch, they'd fallen afoul of the weather, the ground condition, or obtaining consent from one or more of the landowners.

But this time the two firms dealt with difficult terrain, issues with landowner consent, and last-minute scheduling upsets to complete a job that had proved impossible for years.

Map:

Above: The shutdown area covered 15 spans out of the sub-station and 10 spans down the spur off pole 12.

The water meadows are below poles 11 to 13 on the main line and poles 12 to 8 along the spur) that run across this area.
The project
Twelve spans of UK Power Networks' 11kV power lines run over the water meadows at Barrington, a village near Royston, Cambridgeshire.
Eight of the twelve spans needed work to minimise risk of power interruption in the future.
Water meadows are fantastic environments for ecological diversity. However, their unique characteristics – being wet for most of the year, in particular – make necessary maintenance tricky. Though beautiful, this particular site had been an issue for a decade or more.
bts Group manages vegetation for UK Power Networks and has been attempting to clear troublesome growth in this area for years. But every time the two firms tried to arrange a shutdown, they were hindered by bad weather, ground conditions or issues with landowner consent.
Challenges
1. An awkward job
Paul Read, bts Cambridgeshire area manager, led the Barrington job.
Due to Covid-19 restrictions, Paul was on furlough during the first round of surveying, when the awkward and potentially dangerous overhangs and leaning trees had been noted by bts surveyor Rob Taylor.
Rob suggested a line drop from pole 12 to pole 3, a technique that would have meant maintaining tension over three spans using stays and ground anchors. However, UK Power Networks concluded that this would be very difficult, if not impossible, considering the unstable terrain.
Solution: careful planning
When Paul returned to work in early May, he had a (socially distant) site visit with UK Power Networks' Jon Munden. They examined the area, discussing what the two teams needed to achieve and how they could work together to get it done safely.
The two decided that, with a flexible time allowance, they could slowly and safely work down the water meadows, clearing the vegetation causing concerns. This would enable bts to bring in large, tracked, mobile elevating work platforms (MEWPs) from which they could clear the dangerous trees to the sides and above the network.
Jon Munden, UK Power Networks SAP (Senior Authorised Person), would make sure UK Power Networks could keep all households on power while bts worked on the dead network.
UK Power Networks would send a team of linesmen for electrical work and fitting generators on Monday morning. Jon would also issue overnight permits to staff in case there was a fault. This was a belt-and-braces approach that meant customers would not be without electricity at any point.
The agreed timeframe – two days if possible, with room for a third morning –was realistic but still flexible. This approach avoided either firm putting pressure on the other, as everyone had routine work to complete alongside this project.
Before Jon submitted the booking, he confirmed that his proposed date wasn't going to cause any problems – once the date was confirmed, everyone would be on a strict deadline. But the project, booked in for Monday 15 June, almost ended before it began.
2. Last-minute changes
After a week of stormy weather, bts surveyor Rob Taylor visited the site to organise final consent with landowners – only to be told that one of them would now not be available to grant access on the Monday.
Though the landowner said they could allow access on Tuesday, the bts team had already planned the work, hired equipment, and booked delivery for Monday. UK Power Networks' linesmen had also arranged their plans and permits for the 15th.
Solution: rejig the plans
After some frantic phone calls, the teams produced a revised schedule that would allow for the change. The bulk of the work would still be completed on 15 June.
Turner Hire kindly rearranged the MEWP schedule, delivering the hoists across two days. This allowed the job to go ahead with minimal disruption, so bts would like to express a big thanks to the firm.
Many sets of fingers stayed crossed all weekend – and apparently that did the job, as the sun finally came out on Monday. bts and UK Power Networks were able to start work on the 15th as planned; and the other landowner was available to grant the teams access on Tuesday.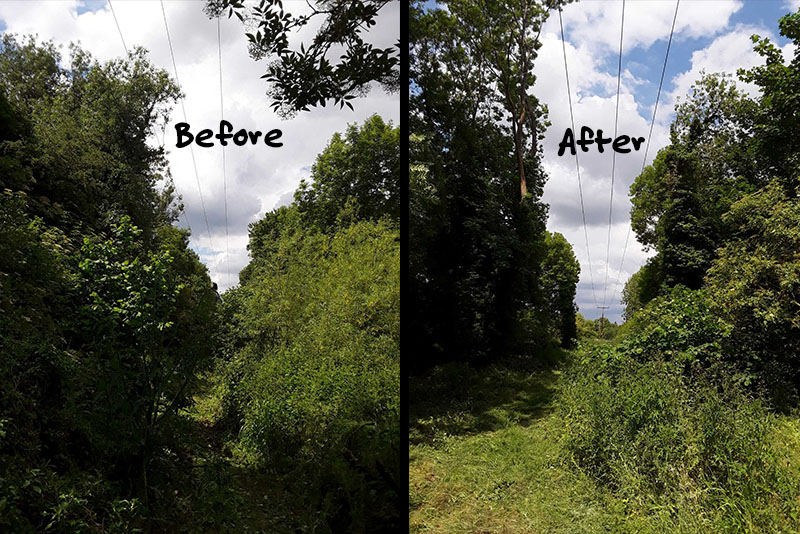 3. On-site objection
Things started well on Monday. A 33mt and a 26mt tracked hoist were used to clear some poor-condition willows and a very large poplar, both next to the 11kv network.
The first span was finished by midday. Next up was the work on the water meadows.
However, just as cutters started this part of the job, they were joined by a gentleman who laid claim to part of the land – and said he hadn't been contacted by the surveyor.
The landowner understandably wanted to minimise disruption to the plant and animal life. To that end, he did not want vegetation removed from beneath the network as had been planned, and only wanted the minimum taken off the sides.
Solution: compromise
The teams from experienced sub-contractors Beach and AMC negotiated a compromise: only vegetation that posed a danger would be removed from beneath the network, and only overhanging or otherwise dangerous branches would be removed from the sides.
When Paul arrived on site, he confirmed the new plans with the landowner. Work could continue.
4. Tricky terrain
The water meadows are made up of fragments of land separated by slivers of water, approximately 4ft wide and 1.5-2ft deep.
The needed to get the hoist across one of the 4ft ditches. The bridge on site didn't look like it would take the weight.
The landowner who arrived on Monday owned the land on one side of the ditch, and his requests meant that the alternative of climbing and cutting was out. Branches would fall into the undergrowth, which can affect plant and animal life.
Besides, most of the trees – ash, willow, and sycamore – were in a poor state and not great for climbing.
Two good reasons to find an alternative solution.
Solution: build a bridge
Luckily, though the area had seen heavy rainfall the previous week, an extremely sunny May meant water levels were low.
The cutters gathered several large logs and constructed a makeshift bridge. By the end of Monday, the teams had moved two 26mt tracked MEWPs across, which meant Tuesday's work was much faster and safer.
This bit of problem solving had three major benefits:
1. Preserving a good relationship with the landowners
2. Minimal impact on local ecology, which is always a priority
3. Faster, safer, more efficient working – cutting from a MEWP is preferable to climbing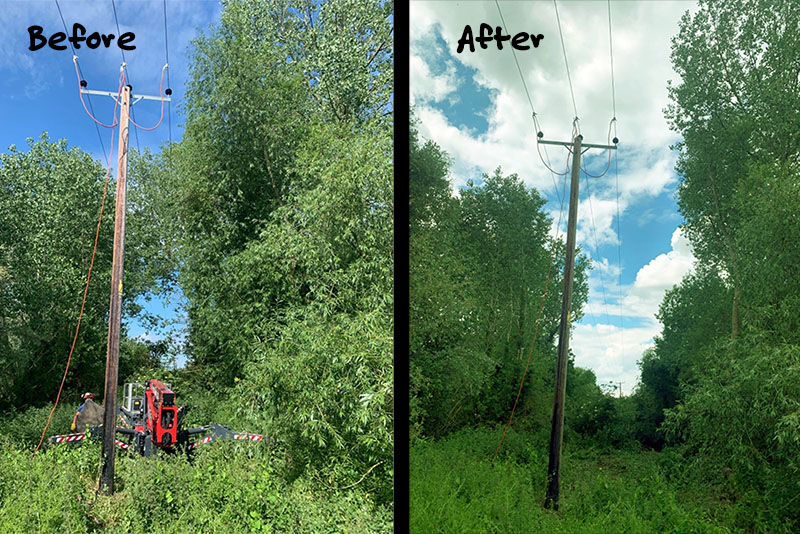 Conclusion
Paul Read, area manager for Cambridgeshire, said:
"Obviously, there were issues that we had to deal with: teams dropping out at the last minute, landowners not being available or changing their minds, and of course with this job the weather playing its part.
"But if you have the right attitude and patience with each other, communicate correctly and give each other enough time to plan what each person needs to do, there's no reason why large joint operations shouldn't achieve what you set out to do.
"All told, a good combined effort from bts and UK Power Networks, proving with a flexible approach and good communication by all involved we can achieve the required result: a clear and safe network and happy landowners.
"Special thanks to Fred, Jon and team, Rob Taylor (surveyor), Turner hire and all the cutting team involved in this task."
Feedback

Jon Munden, SAP, UK Power Networks

"The area in question has been a constant problem over the years causing many fault trips with the associated CML impact and customer complaints. For me personally it was very rewarding to be part of the team working closely with bts and the landowners to resolve the issues for once and all."

David Walker, Cambridge Tree Manager, UK Power Networks

"This was a good effort by all those involved; we can now rest easy knowing this section of the network is clear of tree related faults."