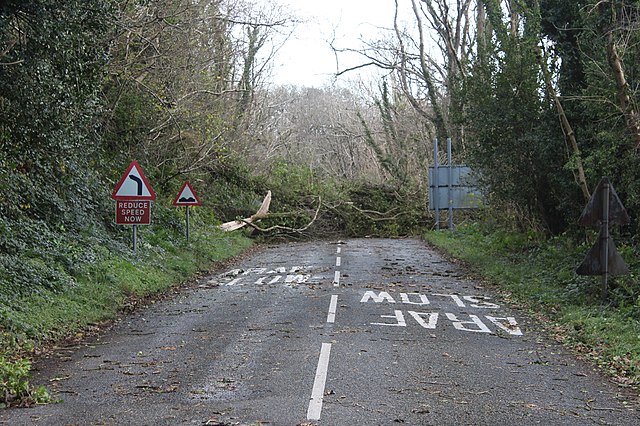 On 26 November, the Met Office issued a rare red weather warning for coastal areas in the northeast of the UK – from Aberdeenshire, down the east coast to the Tees estuary. The announcement came after wider-ranging amber and yellow wind warnings in the UK.
Storm Arwen hit the UK on a Friday night, damaging property and infrastructure with severe gales coming in from the northeast. Gusts reached nearly 100mph in some areas, and widely exceeded 60mph. Three people died in the storms.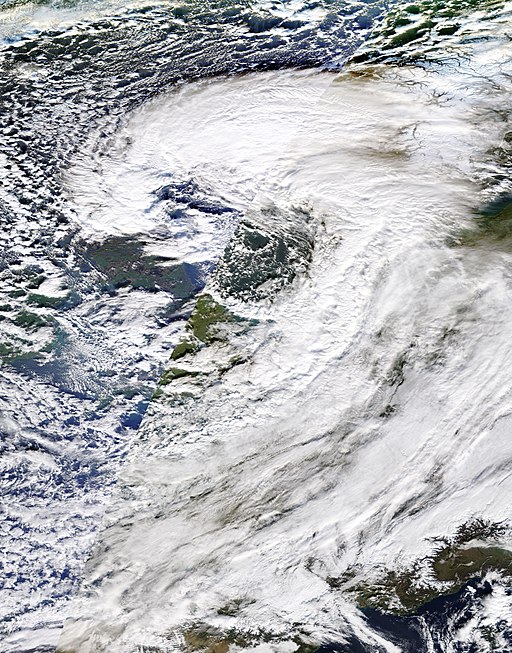 The northerly winds also brought unseasonably cold temperatures, and many regions saw significant snowfall, which would complicate repair efforts.
Paul Hanson, Senior Contract Manager in Scotland, told us about the aftermath of the storm. Even after the Met Office's red warning, the sheer scale of the devastation shocked workers on 27 November.
Power out
Hundreds of thousands of homes lost power in the storm. While the vast majority of them were back on grid within a day or two, the sheer extent of the damage to lines – plus the still-dire weather conditions – meant that thousands went without power for over a week.
Distribution Network Operators (DNOs) sent helicopters up to survey the damage, rallied engineers – some of them from other parts of the country – and got to work.
bts teams cleared vegetation from the lines where possible, hastening the grid repairs. Arborists from East Anglia travelled north to help with reconnections.
Repairs (and obstacles)
By 29 November, hundreds of thousands of properties had their power back on. But each region was hampered by environmental challenges.
Paul Hanson explained, "bts was able to cope, but the biggest problem [in Scotland] was that – because we've got such a high forestry component – whole kilometres of overhead line disappeared beneath woodlands. It wasn't a matter of just reattaching conductors, they had to rebuild whole spurs.
"The poles were broken, the wires were down, and they were covered, in some cases, with hundreds of what had been 25-metre-tall spruce."
Meanwhile, Telford branch's turf was frozen solid. Although the vast majority of affected properties were reconnected by the end of the weekend, heavy snowfall in Staffordshire – especially on the moorlands – made restoring power to already-isolated areas even trickier.
DNOs and local authorities worked to supply generators and welfare stations to communities left without power. Many of the affected households also qualified for compensation, to which some DNOs added extra goodwill payments.
The Energy Networks Association said on 1 December that 97% of homes had power restored. They added that engineers had battled with 4,500 individual sites. At just one site, 100 poles were snapped in half.
Tree damage
Storm Arwen knocked over swathes of forest, as shown in dramatic photos. It was far more extensive than the damage you'll see after most winter storms. What made Arwen so unusual?
The winds were out-of-the-ordinary in two ways. "Typically, in the UK, our wind direction is south-westerly, and this was a northerly to north-easterly wind," explained Paul. "That in itself is all right, but the strength of the wind from that direction – that was very, very unusual.
"From a tree biology perspective, trees have developed root systems to compensate for the normal high-wind direction, this was no help in withstanding the severe wind from the north.
"That gave rise to an awful lot of trees just falling like dominoes."
Some described the storm as a "once in a generation event", which Paul backs up. "It's not quite as bad as the 1987 ['Great'] storm, but you've also got to bear in mind the geographical location. By the time most south-westerly storms get here, they've usually blown themselves out.
"But on this occasion, the Northeast was at the forefront. The storm literally just arrived, hot and angry into Moray.
"So, there were a lot of things that created that perfect range of conditions to do the maximum amount of tree damage. It was pretty alarming, and probably the worst thing, weather-wise, in living memory for the northeast."
In numbers
Around 4,000 hectares of Scottish forest affected by storm damage (a bit less than the size of Dundee)
About 1 million m3 of fallen trees – about 400 Olympic-sized swimming pools full of timber
Around 800,000 trees lost at National Trust for Scotland sites
Historical context – Met Office
In a report released on 2 December, Mike Kendon of the Met Office reflected on the historical context of Storm Arwen. "This was undoubtedly one of the most damaging windstorms of the latest decade," he wrote.
The report drew comparisons between Arwen and a similar storm on 31 January 1953.
"This event resulted in the greatest storm surge on record in the North Sea, with about 160,000 hectares of eastern England flooded and over 300 people died. Winds were reported to have brought down more trees in Scotland than were normally felled in a year.
"The charts below from 0600 UTC 31 January 1953 and 1800 UTC 26 November 2021 show a striking similarity. However, fortunately storm Arwen coincided with a period of neap tides (rather than spring tides)."
In other words: it was a hell of a storm but, given different conditions, the aftermath could have been much, much worse.
What's next?
The aftermath isn't over. Paul explained that the damage done to trees across the nation hadn't played out yet. "We've got ticking time bombs all over the place where trees were partially uprooted but didn't actually fall in the storm." Also concerning are the trees that took root damage in the storm but settled back into an upright position – they'll come down far more easily even in moderately high winds especially when the ground conditions are as wet as they are just now.
"Every time it's windy, we'll lose a few more, and over time the position will eventually even out."
The bright side
From a conservation perspective, the damage wreaked by Arwen comes with a silver lining. Deadwood left in a forest can encourage biodiversity, and the chance to replant large areas will kickstart efforts towards more structure and diversity in woodlands.
The sheer scale of the damage means that conservationists from Scottish Forestry, the National Trust, and other organisations can study what made forests so vulnerable to Storm Arwen, and prepare for future storms which, in a changing climate, are likely to become more common.
And, from a vegetation management perspective, things will gradually get back to normal under the supervision of bts and other experienced professionals. "We'll have to wait and see," said Paul. "Despite all of the problems, the trees don't want to fall – they are desperate to stand up. It's not in their best interest to collapse.
---
Featured image: M J Roscoe / Casualty of Storm Arwen / CC BY-SA 2.0