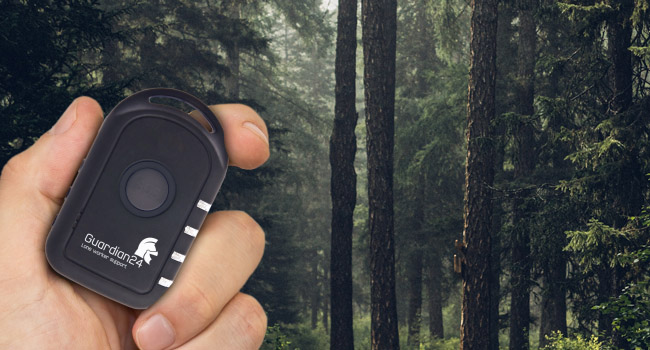 Arboriculture firm bts Group is rolling out new tech to protect its lone workers.
The arboriculture industry, by its nature, includes plenty of work in remote locations. bts is providing its lone workers – mainly surveyors – with MicroGuards as an upgrade to current procedures. Initially, this will be on the UKPN contract, but it may be extended to other areas.
MicroGuard, produced by PeopleSafe, is a small device designed to get help in the case of an accident. Its SOS button connects to an Alarm Receiving Centre (ARC) run by PeopleSafe. If pressed, the ARC can view the device's GPS location and manage the incident:
Listening in to the situation
If safe to do so, talking to the user
Contacting the emergency services and/or nominated staff members at the user's company (in this case, bts)
Users can record a voice memo saying where they're intending to go and how long they're likely to be – information that can be valuable to helpers if things don't go as planned.
The gadget also has a fall – or 'man down' – alarm, which automatically sends an alert if a wearer falls and doesn't get up. Slips, trips, and falls from height are all detected.
What's the process?
If something happens, staff at the ARC follow an escalation process: calling nominated people and, if the situation requires it, emergency services (if something has gone very wrong, this will be done regardless).
MicroGuard Features
GPS
GPRS (access to mobile networks)
SOS button
2-way audio
Fall alarm
Voice memo
Speed dial
"A vital and immediate link"
"We need to make sure all staff are safe," said Andrew Watts, bts internal infrastructure director.
"When we work in teams, we can look after each other. But those who work alone don't have anyone to raise an alarm or provide first aid when needed. These devices provide a vital and immediate link to people who can make an immediate response to an emergency.
"This is an enormous step forward in making sure everyone, including those who work on their own, stay safe at all times."
Tried and tested
Although the tech is new to bts, the MicroGuard has had plenty of field testing.
PeopleSafe sent over pages of case studies, which included sectors from hospitals to hospitality. In many cases, the ARC had been alerted due to danger from other people – in others, due to accidents in the field.
Case study 1
A user activated her alarm to say that she wasn't feeling well and required an ambulance. The Controller asked questions to clarify what was going on, offered continuous support and reassurance, and kept her talking until the ambulance arrived. It was a difficult call to deal with, says PeopleSafe, but the Controller did a fantastic job.
Case study 2
A user was working at height on a harness. They thought they were secure, but their carabiner wasn't secured, and they fell. This set off the 'worker down' alarm and PeopleSafe called an ambulance, which arrived quickly, and informed the worker's escalation contact. Without the automatic alarm, the company might have only discovered the injury at the end of its employee's shift.